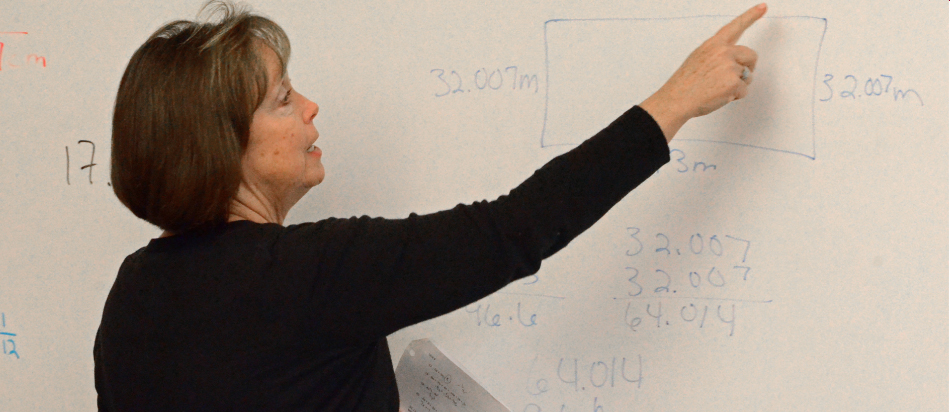 Assistant Professor of Mathematics Barbara Lontz developed Concept of Numbers, a new approach to basic arithmetic.
Photo by Sandi Yanisko
Leading Student Learning
The College is nationally recognized for its student success work as part of the Achieving the Dream initiative.
by Alana J. Mauger
Montgomery County Community College's work to enhance student learning and success gained national attention in September 2011 after earning the designation as a 2011 Leader College by Achieving the Dream: Community Colleges Count (ATD), a national non-profit organization committed to helping more community college students succeed.
According to ATD, Leader Colleges demonstrate commitment to and progress on the four ATD principles of committed leadership, use of evidence to improve programs and services, broad engagement, and systematic institutional improvement. Leader Colleges have also shown three years of sustained improvement of student success in one or more measures.
Since joining the ATD initiative in 2006, the College's faculty and administrators have worked with national experts to identify strategies to improve student outcomes.
"Montgomery County Community College's participation in Achieving the Dream underscores our commitment to student access and success, which anchors our strategic plan," said Dr. Karen A. Stout, President. "Faculty, administrators and staff across disciplines have engaged, hands-on, with our student success work, and our strong use of data enables the College to continually make process improvements that remove unnecessary barriers and provide interventions to at-risk students."
ATD commended the College for improving student outcomes in developmental courses, developing and launching a Minority Male Mentoring Program, and using data to make informed decisions about teaching and learning.
In 2006, Assistant Professor of Mathematics Barbara Lontz developed Concept of Numbers, a new approach to basic arithmetic. Under the new approach, students succeed at 20 percentage points higher than those enrolled in courses that utilize a traditional approach. Concepts of Numbers was brought to scale for fall 2011. Click here to watch a video of Barbara and her students talk about the course.

Earlier in 2011, ATD recognized the College for its use of data to improve student success and completion. The award provides seed money to develop a Gatekeeper Course Academy, allowing faculty to examine student performance in 14 targeted gatekeeper courses.

To learn more about the many ways the College is working to improve student learning outcomes, visit the "Think Success" blog at https://mc3success.wordpress.com.

Community College Week magazine featured the College's work to improve learning outcomes in developmental math in an Oct. 31 cover story, "By the Numbers."

Students are scoring 20 percent better in their math courses since the Concept of Numbers approach was implemented.