Montgomery County Community College was named recipient of the 2012 National Junior College Athletic Association (NJCAA) Region 19 Champion of Character Institutional Award.
Each year the honor is awarded to an institution that demonstrates clearly outstanding results in character development in its student-athletes and coaches, by embracing the true spirit of competition through the six core values of respect, responsibility, integrity, servant leadership, sportsmanship and community involvement.
Kelly Donohue, Coordinator of the Physical Education Center and Campus Recreation, partnered with Jenna Klaus, Assistant Director of Civic and Community Engagement, to nominate the Mustangs for the award.
"The student-athletes got really involved in the community this year," Donohue commented. "We nominated the Mustangs because we felt that all of the teams went above and beyond in their civic efforts."
In total the Mustangs completed 921 hours of community service in 21 charitable events in the past year. Student-athletes from each team volunteered with organizations from little leagues to schools to non-profits in order to raise awareness and funds for a number of causes.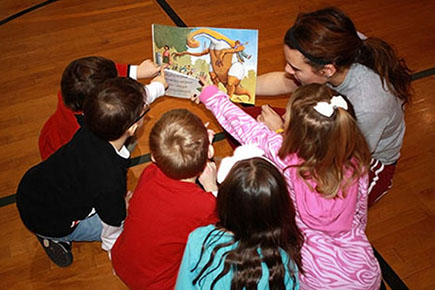 Danielle Lillo reads to a group of children during the Mustangs women's basketball team
visit to a local elementary school. Photo by Amanda Rogers.
Director of Athletics Bruce Bach was impressed with the level of participation of the student-athletes and coaches in the community service events.
"Our athletic department has three main goals. We want to excel on the field; we want to achieve in the classroom; and we want to build character. This year the Mustangs showed a lot of character on and off the field."
Building character has been one of the core goals of the Mustangs athletic program since its reinstatement in 2008. Student-engagement is a top priority for Bach, who encourages student-athletes to translate what they learn in their sport into other areas of life.
"Playing a sport isn't just about the physical, it's about building leadership and team skills that are going to be essential to success in every facet of life," said Bach. "Playing a sport at the College enhances each student-athlete's academic experience and supports their personal development."
Region 19 Awards Committee Chairperson, Bernard A. Johnson, of Passaic County Community College, commended the Mustangs for winning the award.
"[The award goes to] institutions who value and promote the development of student-athletes beyond competition," Johnson noted. "I am proud to say that Montgomery County Community College took on the challenge and did an outstanding job of developing their student-athletes beyond the competition arenas and through the 2011-2012 year."
The Mustangs plan to continue focusing on character development in the years to come.
"The fact is that our student-athletes really enjoy getting involved with the community," Bach said. "Many of our community service projects stem from a student-athlete's idea on how the Mustangs can contribute to a cause they really care about."
During the 2012 fall semester, the Mustangs soccer teams planned a 'Kicks for a Cure' day, while the volleyball team prepared for its first annual 'Women in Red' tournament. The teams also participated in Montgomery County Community College's Strides for Scholarships 5k event and the 5th annual Hunger and Homelessness Awareness Week food drive.
Bach looks forward to this year as being Mustangs' greatest year of community engagement yet. "I am very proud of our coaches and student-athlete for being so civic-minded. They all have so many commitments in their busy lives and I truly feel they are champions of character for making community service a priority."
For more information about the exciting intercollegiate athletics program at Montgomery County Community College, please visit MustangsAthletics.com.
Mustangs Unveil New Website
by Amanda Rogers
Montgomery County Community College Mustangs launched a newly redesigned athletics website on Sept. 28, which can be accessed at MustangsAthletics.com.
The athletics website will maintain the same content previously available to Mustangs fans, including news, statistics, schedules, photo galleries and intramural information. However, the new version of the site will offer users a number of enhanced features, the most prominent being more dynamic and thorough statistics.
"Partnering with PrestoSports for the website redesign is a great step for our department," says Sports Information Director, Amanda Rogers. "The new site will give our fans more in-depth statistical information and will highlight our student-athletes' accomplishments through some really unique features."
Immediately available will be an interactive stats feature, which allows users to view game, team and individual statistics in a number of different ways. Over the course of the next year, the Mustangs will be rolling out comprehensive student-athlete biographies, as well as individual historical records and action shots for each player.
"PrestoSports also manages the website for the National Junior College Athletic Association (NJCAA), of which the Mustangs are a Division III Region 19 member," notes Rogers. "This move will allow us to synchronize our statistics with the NJCAA site and with opponent sites, giving the Mustangs program greater exposure and consistency across the web."